"Starfield" is the latest entry in Bethesda's long-running line of open-world games, a genre they've nearly come to define with franchises such as "The Elder Scrolls" and "Fallout." With a release date finally set for Sept. 6 (with Early Access buyers jumping in a few days earlier on Sept. 1), anticipation is at a fever pitch for this cosmic adventure.
This game is a massive undertaking. Its promised space-faring fans sprawling expanses to explore with satisfying combat, endearing companions, and hours of gameplay in what might be one of the biggest role-playing adventures of all time. "Starfield" has promised fans the universe, and it certainly intends to follow through on its word. 
So how does Bethesda's first foray into the stars measure up? Read on for my hands-on opinion of my intergalactic voyage through "Starfield."
"Starfield" feels like the triumphant culmination of several years' worth of painstaking trial and error for Bethesda. Although the company has largely dominated the open-world fantasy genre, their ventures into science fiction have been less consistent. "Fallout" fans are divided on the direction the series has taken lately, particularly with the polarizing "Fallout 76." And the next "Elder Scrolls" entry is years away, though it's set firmly within the fantasy realm.
"Starfield" takes a different path entirely, veering away from post-apocalyptic Earth to explore the cosmos. It invites players to explore the Settled Systems, a complex vision of the 24th century filled with inter-faction tensions, existential questions, and layers of narrative depth.
You're a new recruit for mining corporation Argos Extractors. It seems like your everyday thankless job, until you happen upon a strange artifact that's a lot more than it seems. Soon, you find yourself joining the ranks of a group of space explores known as Constellation. You're tasked with investigating bizarre alien artifacts just like the one you found and the awe-inspiring powers they bestow upon their users.
But there's so much more to the game than a simple "alien mystery" storyline. "Starfield" poses an array of political and existential quandaries, a chessboard of factions, including the United Colonies and Freestar Collective that dictate the game's trajectory, along with smaller rogue players ranging from corporate tycoons to pirates and borderline cultists. The United Colonies feel something like an amalgam of the representation of Earth's military in "Starship Troopers" and the planet's role in the sci-fi series "The Expanse."
The Freestar Collective, in contrast, has a much more rustic, rowdy feel more akin to the world of sci-fi classic "Firefly," with oddly Wild Western decorum and style. All the way at the other end of the spectrum is Ryujin Industries, the epitome of the faceless corporation, all-business, even in the face of adversity. And that's just the start of things. 
Bringing your character to life is much more satisfying this time around if you've been here throughout Bethesda's older games and older character creators. There's a wide variety of preset models to choose from, or you can go wild tweaking all of the sliders and ways to shape your explorer. While it's clear Bethesda has learned little about what hairstyles are actually fashionable and leaves lengthier 'dos in the dust, it's a small gripe that modders will no doubt rectify when they get their hands on the game.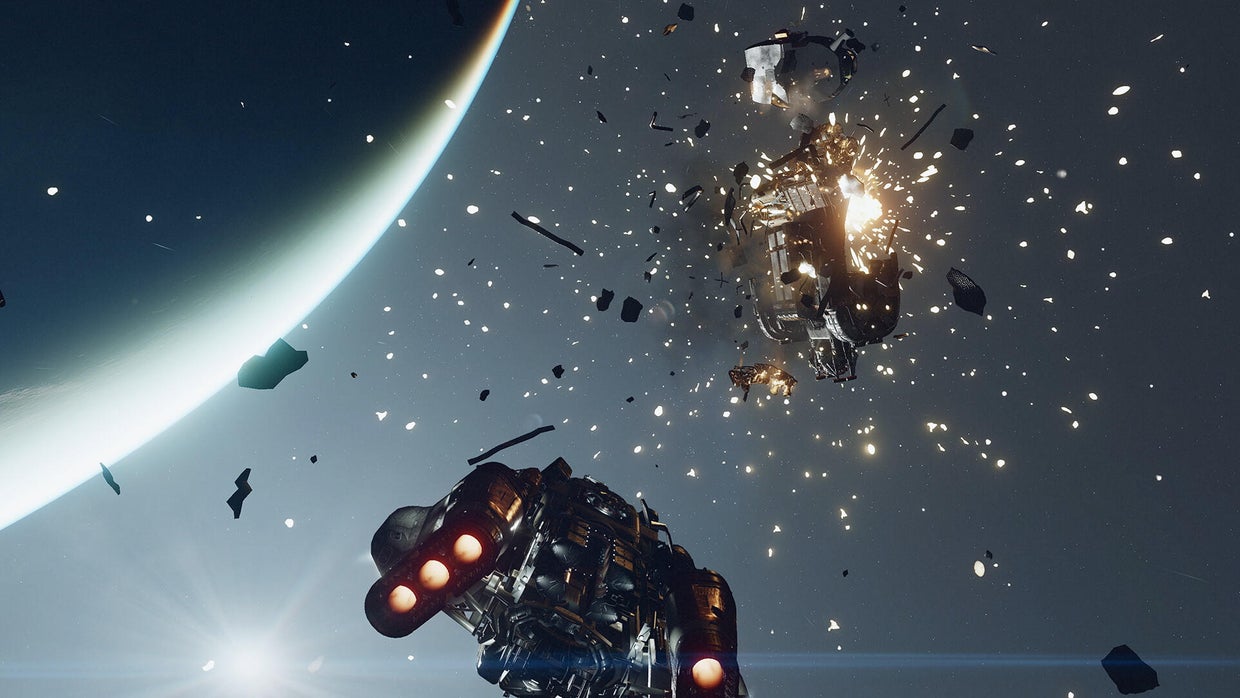 You can wander through the game alone as you explore the ridiculous amount of side-quests and sub-plots set out for you, but you'll inevitably find yourself entangled in someone else's drama, which makes for exciting storytelling. Depending on your actions, you might find yourself embroiled in corporate warfare, taking sides in faction disputes, or even delving into a career in space piracy. These situations let the game's nuanced skill system shines, allowing you to either blast your way through troubles or employ more discreet tactics.
Combat is just as robust, however. No expense was spared to make it just as engaging as trying to defuse a situation with another diplomatically. Ship-to-ship engagements are as intricate as they are thrilling. You can manage various onboard systems in real-time, which should excite space combat enthusiasts. And if the mood strikes and you feel the need to delve into your dark side, you can lean heavily into the world of space piracy as you plunder cargo from unsuspecting travelers. Don't get caught with contraband though, because that'll create a whole host of additional problems. 
It's hard to overstate how much there is to do in this game. Just when you think you've seen it all, another quest rears its head. Somewhere new to explore pops on to your radar. And the game maintains its allure even after you think you've seen it all. A robust New Game+ mode extends replayability, offering a fresh perspective on the cosmos and your place in it once you've seen the main storyline come to an end. So you can hop in and do it all over again — this time, with a little more wisdom to go around.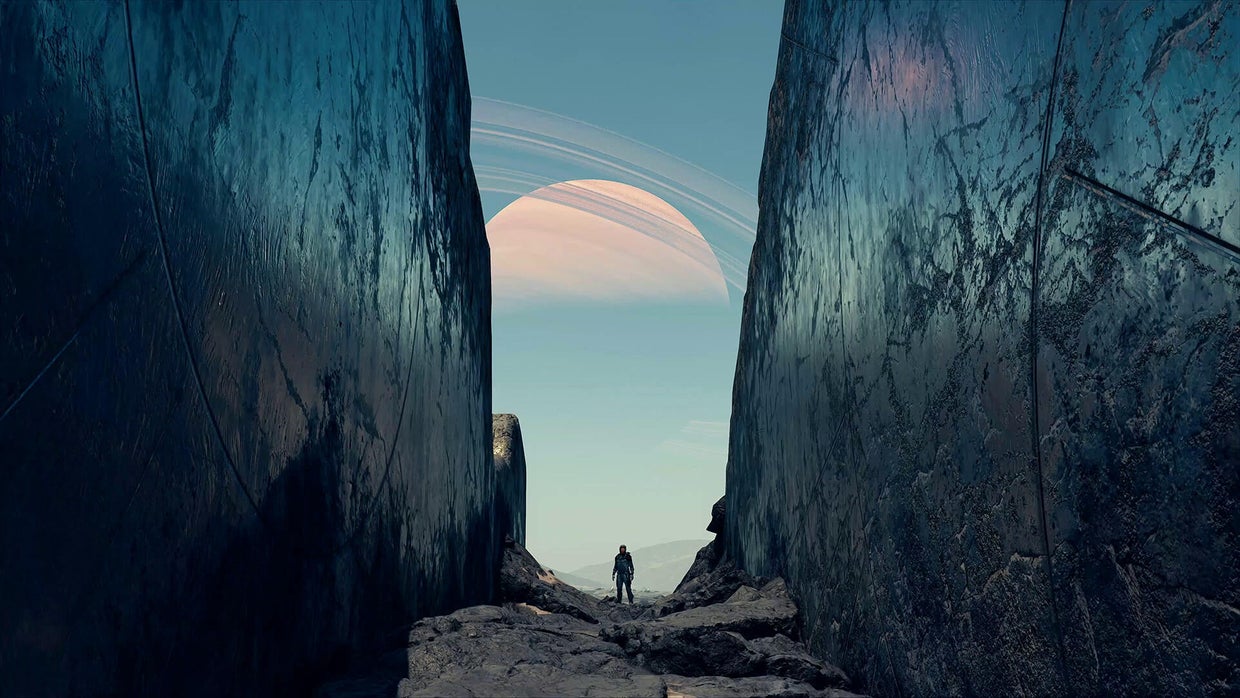 Of course, I'd be remiss not to mention the glitches that did occur during my playthrough. If you've played a Bethesda game on launch or in its early days, you're likely aware of the many similar issues that often pop up, with stuttering character models, companions facing their backs to you as you speak to them or walking off-screen in the middle of conversation, or faces, hair and models disappearing entirely, leaving only eyeballs and mouths in their wake in a grotesque display of game glitchery. 
It's disappointing to see, given that the game has been in development for such a long time. But it's also a game that packs so much content under the hood that it's almost a given that there will be a few hiccups — at least until they're hopefully patched out on the game's release. Luckily I never encountered anything game-breaking, only occasionally hilarious as I tried to speak to companion Sam as he walked off-screen and ignored me completely while holding a conversation.  
Even with its imperfections, "Starfield" is an audacious endeavor that succeeds in melding the wonders of outer space with unbridled amounts of cosmic exploration. It's an RPG that continually challenges your assumptions and rewards your curiosity, making it a must-play title for any RPG or space exploration aficionado.
The verdict is clear: if you've ever dreamt of venturing into the unknown recesses of space, then "Starfield" should be your next port of call.
Why we love "Starfield":
Its mature narrative and characters flesh out an exciting universe to explore.
A complex combat and growth system serves up a satisfying, layered experience.
There are what feel like an infinite amount of large, highly-detailed environments to explore.
The game includes excellent character creation tools to personalize your experience.
The polished UI packs plenty of helpful information into an easy-to-read user interface.
It's absolutely massive and you'll be able to spend hours and hours immersed within the Settled Systems. 
---
Related content from CBS Essentials:

Denial of responsibility! Planetconcerns is an automatic aggregator around the global media. All the content are available free on Internet. We have just arranged it in one platform for educational purpose only. In each content, the hyperlink to the primary source is specified. All trademarks belong to their rightful owners, all materials to their authors. If you are the owner of the content and do not want us to publish your materials on our website, please contact us by email – [email protected]. The content will be deleted within 24 hours.