There have been three monster sightings this year, according to an official register. In June, Etienne Camel, a pharmacist from Lyon and his wife Elaine, were visiting Loch Ness and claimed to have spotted a "65-foot long dark shape" moving through the water.
McKenna, 36, says his interest in the creature was piqued as a child reading books about the mysterious beast lurking in the loch. But his first visit nearly ended in disaster.
"Like everyone else, I assumed there was a 30-foot plesiosaurus … I'll be honest, I genuinely don't know what it is."

Alan McKenna
During a trip to Urquhart Castle, young Alan went down to the shoreline and walked blithely into the water there, unaware there was a deep drop-off, and ended up under the cold, dark water.
"Me being me at nine years old I thought 'something's got me!' but my dad got me out, and I just got a huge fright," he says.
The experience left him with a phobia of deep water, but the visit also sparked an enduring fascination with the loch and its mysteries, including the Loch Ness Monster.
I nod my head and produce my mobile phone to show him a photo of me, aged seven, wearing a dubious vinyl jacket and standing in front of a loch-side statue of Nessie which is long gone.
We've both loved this mystery since we were small. Now we're both dripping wet searching for Nessie.
A little while back, McKenna created a new group, Loch Ness Exploration, which brings together similarly fascinated volunteers for a series of observations once or twice a month at different spots and elevations along the loch's side.
He says this weekend is about inspiring a new generation of Loch Ness enthusiasts.
"Not every ripple or wave is a beastie. Some of those can be explained, but there are a handful that cannot," he said.
We stop in the middle of the lake, having been given a brief history of everything that has been found over the years – real and fake – and turn off the engine. McKenna drops a new state-of-the-art underwater microphone that hangs off the side of Deepscan, stretching about 30 metres down. The mission hopes to detect new sounds and catalogue them. He tells us that the day before, he had heard four irregular sounds, but he's kicking himself because he forgot to turn on the record.
"I'm very embarrassed about that," he says, saying further investigation will take place to locate its source.
Back on dry land, the world's media has overtaken the village. The line to get a (bad) coffee is lengthy in the two or three places you can get one and the wait for lunch is much longer. Camera crews are here from Sweden, Japan, Germany, the US and Australia. Some US news organisations have been crossing live non-stop. Enthusiasts have also tuned in on several fixed-point live cams from California to Japan, New Zealand to Canada.
One by one, some of the 100 registered volunteers for the day appear, too. This brings great relief as they'd earlier proved as elusive to the media as Nessie herself. A young man from Paris is popular with the camera crews, while a family from Gibraltar, who have flown in to see US rock band The Killers, have also joined the hunt.
Craig Gallifrey, a local volunteer, says that while he held some scepticism of what could be in the depths, he was determined to get to the bottom of it.
"I believe there is something in the loch," he said. "I do think that there's got to be something that's fuelling the speculation.
"I think it's just the imagination of something being in the largest body of water in the UK. There's still something quite special about the loch."
Inside the Loch Ness Centre, which occupies Mackay's old hotel, Nessie expert Roland Watson says it's important a "pro-monster" narrative has been protected even as technological breakthroughs are made.
"There's been a general drift over the last few decades towards a sceptical-oriented mindset in society, people trying to explain away mysteries," he said. "But there have been more than 1000 sightings, and I take the view that they can't all be wrong.
"Unfortunately, the 'cultural Nessie', as I describe her – you know the plesiosaur-like dinosaur – detracts from what it might actually be."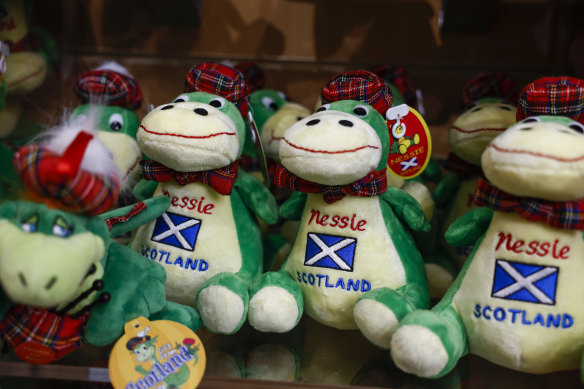 A special guest for the evening is Steve Feltham, who gave up his job and sold his home in Dorset to move to Dores on the shores of the loch in 1991. After more than 30 years of searching for Nessie (a Guinness World Record entry for the longest continuous search for the monster), he says he thought the task would have been easier. But he doesn't regret it.
"My Utopia," he calls this place, while also referring to himself as a "tragic, wifeless freak in a van".
Feltham is a regular contact for film crews and journalists from all over the world who turn up and ask him "is there a monster, or isn't there?"
"It frustrates me that I never have the chance to get an equally important point across: that if you have a dream, no matter how harebrained others think it is, then it is worth trying to make it come true. I'm living proof that it might just work," he says.
McKenna, too, is an unabashed believer, despite those who have knocked his "cultish" beliefs or even suggested he's mentally ill.
"I mean, who cares if I am," he says. "In the end, this hurts nobody. It annoys me when people say you're stupid, or it's a waste of time. I would never tell someone that."
He is yet to see Nessie and, as such, is not quite sure yet what she is. In fact, he says it's more than likely there are more than one of her.
So, is it a prehistoric creature, a giant fish or eel, or maybe a seal?
Loading
"Like everyone else, I assumed there was a 30-foot plesiosaurus," he said. "When I started lining up the dots, I realised that becomes very unlikely. I'll be honest, I genuinely don't know what it is.
"You've got to put some bits and pieces together and form your own opinion about this."
Maybe McKenna will be the man to find out. But deep down, I think everyone here actually hopes we never find out either way. After all, what would be the fun in that?
Denial of responsibility! Planetconcerns is an automatic aggregator around the global media. All the content are available free on Internet. We have just arranged it in one platform for educational purpose only. In each content, the hyperlink to the primary source is specified. All trademarks belong to their rightful owners, all materials to their authors. If you are the owner of the content and do not want us to publish your materials on our website, please contact us by email – [email protected]. The content will be deleted within 24 hours.