Israel releases graphic video of Hamas terror attacks as part of "narrative battle" over war in Gaza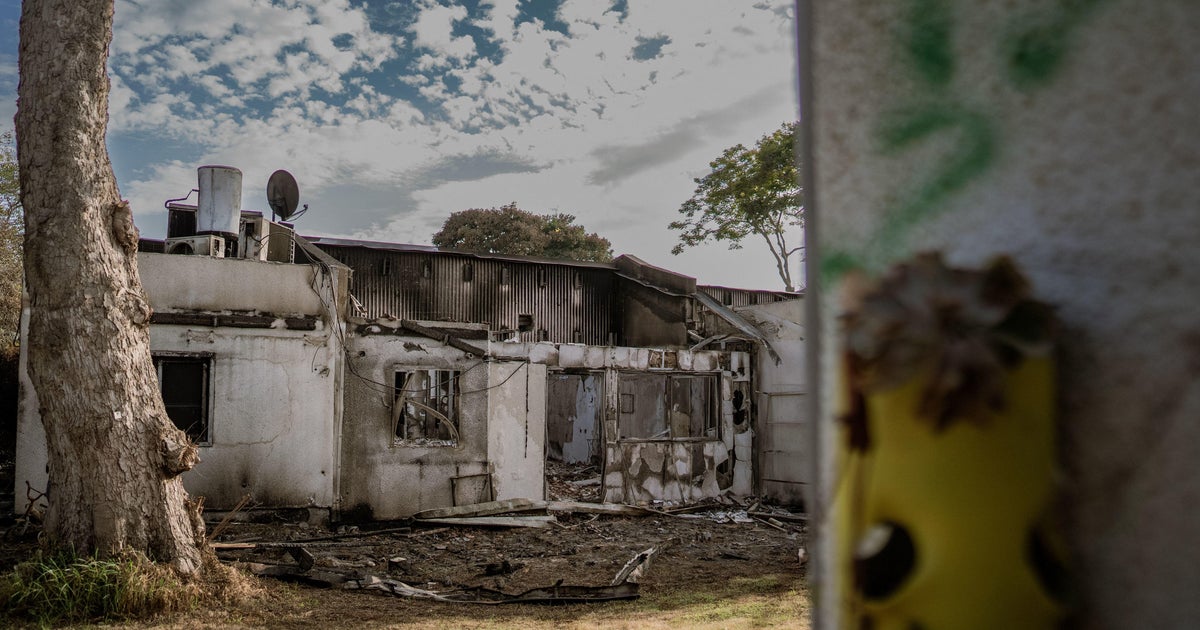 In an auditorium at an Israeli military base north of Tel Aviv on Monday, I joined dozens of foreign journalists who watched 43 minutes of graphic, gruesome footage and photographs that the Israel Defense Forces said were made during Hamas's Oct. 7 attack on Israel. Some of the images had circulated online before, in some cases in truncated and edited form, but most of what we saw was unedited and very disturbing. 
The IDF said it compiled the images from militants' body cameras, victims' dash cams and cellphones, security cameras at kibbutzim, and other sources. The IDF decided to share them, international spokesman Lt. Col. Richard Hecht told me, as part of his country's "narrative battle." It comes as international criticism mounts over civilian casualties in Israel's military campaign in Gaza.
"We understand that there's a narrative battle here and that we have to show the world what happened here," Hecht said. "We're doing everything we can to show the media that there's a reason why we're doing what we're doing. [Hamas] started this in the most heinous way."
We were not allowed to record the images played for us by the IDF — we were told, out of respect for grieving families. The Hamas militants who launched the surprise attack on Israel operated on a much different policy, filming and livestreaming parts of their murderous rampage with body or helmet cameras. 
Not all of the material could be independently verified by the news media. This is some of what we were shown:
Hamas militants lobbing a grenade into what appears to be a home bomb shelter, killing a father before he could slam the door shut. His young sons, wearing only their underwear, were splattered with blood but survived. In another clip, the boys are in their kitchen, crying out for their mother, as one attacker pulls a Coca-Cola from their refrigerator and takes a leisurely sip. The younger brother says he can't see out of one eye and asks, "Why am I alive?"
Some journalists in the hall gasped and held their heads in their hands. 
In another clip, a militant stands over a man who appears to have been shot in the gut and hacks at him multiple times with a garden hoe.  
As Hamas fighters raged through another kibbutz, we watched them set fire to a home; shoot a black Labrador trotting toward them; and execute a man in a living room chair through his screen door — he groans and slumps over.
We also saw clips of militants firing at close range at two women huddling in fear under a desk; spraying bullets at unsuspecting drivers until their cars slow to a halt; dragging bloodied bodies out of one car and driving it away.
At the Nova music festival, we saw young Israelis smiling and dancing; later, Hamas militants fire at festival-goers hiding under cars and then meticulously shoot into a line of portable toilets. They toss hostages — bloodied and barely moving — into a pile in the back of a pickup truck.
During the screening, most journalists sat silently watching. A few peered at the videos through their fingers. At least one was crying.
Then there is a chilling cellphone recording the IDF said it retrieved from a call-recording app on a phone found at the scene — a Hamas fighter's call to his parents in Gaza, boasting, "Dad, I killed 10 [Jews] with my bare hands."
"Mahmood, where are you?" his father asks.
Mahmood names a kibbutz in southern Israel, adding, "Please, be proud of me."
We hear his mother cry in the background, "Promise you'll return home!"
After the viewing, IDF Major General Mickey Edelstein explained why the IDF had invited international journalists there to watch the video: He said he was "shocked" to see some media trying to equate Israel's actions in Gaza with Hamas's atrocities in Israel. "Is it equal? I cannot understand such a comparison," he said.
Israel says Hamas' attacks killed more than 1,400 people and left 5,400 wounded. More than two weeks of Israel's retaliatory airstrikes on Gaza have killed nearly 5,800 people and injured almost 16,300, according to Gaza's Health Ministry, which is run by Hamas.
As images of the devastation in Gaza — including Palestinian women and children displaced, maimed, killed or weeping for their loved ones — have filled the airwaves and social media,  Israeli authorities have become keenly aware that the sympathy their country received after the Oct. 7 attacks has been waning as international condemnation grows — a shift that Hamas appears ready to exploit.
"We are not fighting the civilians, the kids in Gaza," Lt. Col. Hecht told me. "But this is a very complex situation, and we will make sure Hamas is eradicated."
When I asked him about criticism that Israel must do more to avoid civilian casualties in Gaza and that it has struck civilians who had evacuated to southern Gaza after Israel warned them to leave the north, Hecht responded that Hamas is "using their people as … human shields. … [Hamas] wants their people to get hurt."
"We're doing everything we can to notify civilians to move," he said. "… But you saw the visuals. [Hamas] came in and they went for anyone they could, and we have the obligation for this not to happen again. We're protecting our nation."
When I pointed out to Hecht that many people felt sympathy for Israelis who suffered in the Oct. 7 attacks, but they also feel sympathy for Palestinian civilians in Gaza, he said, "So do we."
Denial of responsibility! Planetconcerns is an automatic aggregator around the global media. All the content are available free on Internet. We have just arranged it in one platform for educational purpose only. In each content, the hyperlink to the primary source is specified. All trademarks belong to their rightful owners, all materials to their authors. If you are the owner of the content and do not want us to publish your materials on our website, please contact us by email – [email protected]. The content will be deleted within 24 hours.