After seven weeks, the Patriots finally found their formula.
Let's skip the cliched "complementary football," a tidy way of saying it's generally a good idea to play well on offense, defense and special teams in the same game.
Obviously, a banged-up Patriots defense must continue producing turnovers, as Jabrill Peppers did intercepting Josh Allen on Buffalo's first play from scrimmage Sunday. Obviously, more special teams performances that include rookie kicker Chad Ryland hitting all of his field goals, Bryce Baringer dropping 100% of his punts inside the opponent's 20 and the Pats winning the field position battle will help.
But the Patriots' real formula involves alchemy: transforming the anchor that dragged them down for six weeks into wind behind their sails for the rest of the season. That anchor, of course, was the offense.
Mac Jones played arguably the best game of his career Sunday, considering the caliber of the opponent, his surrounding talent and performance in high-leverage situations. He finished 25-of-30 for 272 yards and two touchdowns. The Patriots scored a season-high 29 points and completed their first fourth-quarter comeback in years.
After the game, Jones credited Bill O'Brien for writing a winning script. That script came in five parts.
Start with a stabilized offensive line.
Starting right guard Mike Onwenu flipped to right tackle and plugged one of the largest holes in any starting lineup across the NFL. Onwenu allowed a single pressure in pass protection and helped the Pats post a 50% success rate when rushing, the second-highest of any offense in Week 7.
Over the last three weeks — including their hideous 34-0 shutout against New Orleans — the Patriots rank ninth in rushing success rate, which takes pressure off of Jones and allows for offensive balance.
Part two: more motion.
According to ESPN, the Patriots' offense entered Sunday ranked 23rd in the rate of motion used at the snap with a season-long mark of 14%. Against the Bills, the Pats almost doubled that percentage, snapping the ball with a player in motion 24% of the time. That added eye candy stressed a Buffalo defense saddled with inexperienced linebackers and a tackling problem.
The Patriots averaged 10.6 yards per play on these snaps. Of note: the NFL's two highest-scoring offenses, Miami and San Francisco, rank first and third in rate of motion used, respectively.
Part three: more run-pass-options (RPOs).
The Patriots called five RPOs on their first 11 snaps, averaging 8.2 yards per play. Jones feasted on RPOs at Alabama, where O'Brien last coached and has since implemented some elements of that offense into the Patriots' playbook. Calling RPOs, which force Jones to almost instantaneously choose between passing or hand the ball off, also mitigated the Pats' problems in pass protection, where they still rate sixth-worst in the league, according to Pro Football Focus.
Part four: a base quick passing game.
For a second straight week, Mac Jones led the NFL in fastest snap-to-throw time, per PFF. He unloaded the ball in an average of 2.2 seconds, protecting himself from what he and Belichick called the league's best pass rush. In that time, O'Brien also featured his two best wideouts versus man-to-man coverage: Kendrick Bourne and Demario Douglas.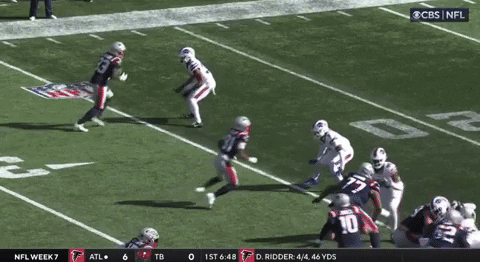 Douglas saw a career-best 37 offensive snaps, while Bourne earned a team-high seven targets and played more than any other skill-position player. Their ability to separate downfield helped Jones finish 7-of-8 for 77 yards and two touchdowns versus man-to-man coverage, a major weakness for this offense.
Part five: scheming explosive plays.
Considering Douglas, a sixth-round rookie, stands far and away as the Patriots' most explosive player, generating chunk plays has and will continue to fall on coaching. The Pats derived most of their explosion (defined as passes of 20-plus yards and runs of 12 or more yards) from well-timed play-action passes and concepts that sprung playmakers into open space. Jones hit passes of 16, 25 and 26 yards off play-action. Around those completions, Douglas ran for 20 yards on a jet sweep, Bourne took a shallow cross for 33 yards and Rhamondre Stevenson rumbled 34 on a well disguised swing pass.
Credit O'Brien for packaging and timing these plays in ways that caught Buffalo off-guard, unlike prior opponents.
Bill O'Brien packaged the #Patriots favorite concepts in new ways to keep Buffalo off-balance.

This is a bubble-screen RPO to Pop Douglas disguised by the tight formation. Mike Gesicki takes an Arc release to block downfield, and the Pats out-leverage Buffalo for a 1st down. pic.twitter.com/TGg1TNRPkQ

— Andrew Callahan (@_AndrewCallahan) October 23, 2023
The question now is: how often can the Patriots repeat this formula? Can it become a habit? What about their identity?
It all starts with Jones. He has the power, like any quarterback, to maintain a steady floor. Over the past two weeks, the Patriots offense ranks fourth-best by Expected Points Added (EPA) per play. But over that past three weeks, when factoring the three turnovers Jones committed during the Saints' shutout, the Patriots fall all the way to 31st.
So what comes next?
If the Patriots can pull another upset at Miami, a lost season might reset its course faster than anyone expected. If not, last Sunday will slip away, a happy memory swallowed by a sea of disappointment and unrealized potential with an all-too-familiar anchor down below.
Here's what else the film revealed about Sunday's win:
Mac Jones
25-of-30 for 272 yards, 2 TDs
Accurate throw percentage: 86.2%
Under pressure: 4-of-4 for 36 yards, TD, 4 rush yards, 1 sack
Against the blitz: 8-of-9 for 117 yards, 4 rush yards
Behind the line: 7-of-8 for 55 yards
0-9 yards downfield: 13-of-15 for 129 yards, 2 TDs
10-19 yards downfield: 5-of-6 for 88 yards
20+ yards downfield: N/A
Notes: This is the Jones we expected to see.
A surgeon over the middle of the field — where he went 17-of-20 — with a lightning-quick release and plus accuracy. Yes, Jones benefited from a game plan tailored to him more than any other we've seen, but within that, he executed and risked a turnover on a single play.
Jones also delivered in a way we had never seen before, leading the first game-winning touchdown drive of his career. His third-and-8 completion to Hunter Henry with under a minute left allowed the Patriots to chase that touchdown instead of settling for a field goal. Jones routinely stood in against pressure — a bellwether for him this season — and found a way.
This was a quarterback the Patriots can win with, however long this version of Jones sticks around.
Critical areas
Turnovers: Patriots 1, Bills 2
Explosive play rate: Patriots 10.9%, Bills 4.5%
Success rate: Patriots 52%, Bills 52%
Red-zone efficiency: Patriots 3-3, Bills 2-4
Defensive pressure rate: Patriots 41.9%, Bills 21.2%
Offense
Game plan
Personnel breakdown: 64% of snaps in 11 personnel, 36% snaps in 12 personnel.***
Personnel production: 6.9 yards/play in 11 personnel, 5.9 yards/play in 12 personnel.
First-down down play-calls: 63% pass (7.6 yards per play), 37% run (3.3 yards per play)
Play-action rate: 21.2%
Player stats
Broken tackles: RB Rhamondre Stevenson 3, WR Kendrick Bourne 2, WR Demario Douglas 2, RB Ezekiel Elliott, QB Mac Jones
Pressure allowed: Team 3 (sack, 2 hurries), LT Trent Brown (QB hit), LG Cole Strange (hurry), RG Sidy Sow (hurry), RT Mike Onwenu (hurry)
Run stuffs allowed: Team 2, Sow, Andrews, Strange
Penalties: QB Mac Jones (delay of game), OL Vederian Lowe (ineligible man downfield)
Drops: None
Notes
Bill O'Brien ruthlessly attacked the Bills' linebacking corps and poor tackling with his opening script, calling three RPOs, two plays with motion at the snap and a play-action bootleg on the first drive alone.
Chasing after all that motion and playmakers in space, Buffalo finished with nine missed tackles, including a few that led directly to explosive plays.
On the ground, the Pats pounded the soft middle of the Bills' defense, which entered having allowed 5.7 yards per carry inside. The Patriots' first eight runs all hit between the tackles.
However, that well dried up fast, and Buffalo finished allowing four yards per carry. O'Brien adjusted by hitting the edges, including one 20-yard jet sweep for Demario Douglas in the third quarter.
Another plus in O'Brien's column: how he disguise base concepts — like bubble screen RPOs, slant-flat and swing passes — in new formations and motions to keep Buffalo off-balance.
Bill O'Brien packaged the #Patriots favorite concepts in new ways to keep Buffalo off-balance.

This is a bubble-screen RPO to Pop Douglas disguised by the tight formation. Mike Gesicki takes an Arc release to block downfield, and the Pats out-leverage Buffalo for a 1st down. pic.twitter.com/TGg1TNRPkQ

— Andrew Callahan (@_AndrewCallahan) October 23, 2023
Douglas accounted for two of the Patriots' six longest plays of the game and drew three penalty flags on Bills defenders in coverage. He should remain their starting slot receiver moving forward, regardless of how healthy JuJu Smith-Schuster is.
Douglas is still showing mental mistakes — he ran the wrong route on third-and-2 that killed the Pats' 2-minute drill before halftime — but the Patriots must stomach those.
Because Douglas is also showing growth with his game, like using tempo at the start of his 19-yard catch in the fourth quarter that preceded Bourne's touchdown. He ran at 80% upfield, the burst through his break on an in-breaking route behind a nearby zone defender to maximize separation, and Jones hit him right on the numbers.
Sunday's six explosive plays finished as a season high. They had O'Brien's play-calling, Douglas, Rhamondre Stevenson, Kendrick Bourne and third-string tight end Pharaoh Brown to thank for that.
Stevenson accounted for the longest play of the game on his 34-yard catch-and-run that started the Pats' final drive. O'Brien cleverly disguised that basic swing pass — a staple for this offense — by motioning Douglas at the snap, which also helped the receivers out-leverage Buffalo as they blocked for Stevenson in space.
Bourne's fourth-quarter fumble put a sour end on an otherwise sparkling day. The Pats desperately need his yards-after-catch ability.
Brown caught both of his passes off play-action; one in the flat and another down the right seam. The Patriots rotated him with Hunter Henry and Mike Gesicki throughout the game to disguise their run-pass intentions, considering Gesicki is more of a pass-catcher and Brown is their best run-blocker.
Gesicki beat Bills slot cornerback Taron Johnson on his game-winning touchdown with the same route Douglas ran against Johnson the play before. The Patriots picked on Johnson like no other defender they've faced this season.
Nice return for starting left guard Cole Strange.
Moving Mike Onwenu to right tackle was long overdue. It also speaks to an old philosophy among offensive line coaches: play your best five. Prioritize talent over fit, and let rough edges smooth out. It's about time the Patriots did just that.
Defense
Game plan
Personnel breakdown: 31% three-safety nickel package, 31% dime package, 30% three-corner nickel, 5% dollar, 3% base.****
Coverage snaps breakdown: 52% zone, 48% man
Blitz rate: 39%
Blitz efficacy: 3.1 yards allowed per dropback, 37.5% success rate allowed, 2 touchdowns
Player stats
Interceptions: S Jabrill Peppers
Pass deflections: CB J.C. Jackson, LB Ja'Whaun Bentley
Pressure: DL Deatrich Wise 5 (4 hurries, QB hit), DL Christian Barmore 4 (sack, 3 hurries), Bentley 3 (3 hurries), DT Davon Godchaux (QB hit), Peppers (QB hit), S Adrian Phillips (QB hit), CB Jack Jones (QB hit), LB Jahlani Tavai (hurry), DB Myles Bryant (hurry), Team (hurry)
Run stuffs: OLB Anfernee Jennings
Missed tackles: Bentley 5, S Kyle Dugger 2, Bryant 2, Phillips 2, Jackson
Penalties: CB Jack Jones (roughing the passer, illegal contact), S Jalen Mills (illegal contact), S Marte Mapu (holding), Barmore (roughing the passer), Wise (neutral zone infraction),  S Brenden Schooler (false start on punt)
Notes
Jabrill Peppers intercepted Josh Allen by reading a play-action pass Buffalo hurt the Patriots with several times last season. It features a three-route concept that stretches the short, intermediate and deep level of the field along the sideline.
Peppers told the Herald post-game he diagnosed the play by studying wide receiver Gabriel Davis' pre-snap motion, alignment and relaxed body language. Davis appeared to motioning in to block, but Peppers knew better and immediately moved to cover the short route in the flat once the ball was snapped.
Once Allen looked deeper, Peppers dropped back and intercepted his sideline pass. The interception not only allowed the Patriots to grow their initial lead from 3-0 to 10-0, it built a margin for error they haven't enjoyed virtually all season.
The Patriots needed that margin for error in the fourth quarter, when Allen and Co. marched to back-to-back touchdowns having finally overcome the Pats' high-pressure game plan.
Armed with a diminished pass rush, defensive play-caller Steve Belichick sent regular blitzes at Allen, particularly on second-and-long and in the high red zone.
Before Allen's 8-yard touchdown pass to running back James Cook and ensuing 25-yarder to Stefon Diggs, it worked. Allen started 1-of-6 for 10 yards and a sack against the blitz.
The blitzing gamble seemed to solve two problems: the aforementioned limited pass rush and Allen's escapability. Allen killed the Patriots in their previous four matchups by extending most of his dropbacks longer than 2.5 seconds, then either scrambling or rifling completions downfield.
On third down, the Patriots spun the dial: 3-man rushes, double-teams of Stefon Diggs, simulated pressures and more blitzes. Their initial plan relied heavily on a spy for Allen.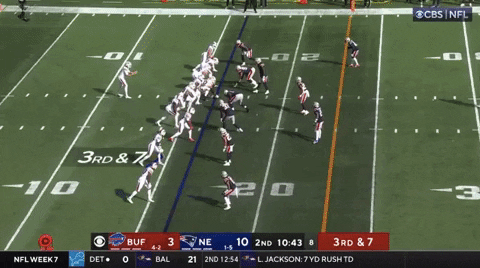 Up front, defensive linemen Deatrich Wise and Christian Barmore also synchronized their best games of the season. They combined for nine total pressures, as Barmore devastated the interior of several pockets for Allen who was forced to duck outside.
Down to three edge defenders, Anfernee Jennings played a career-high 97% of the defensive snaps. He tallied the team's only run stuff, and made another run stop by himself after a 1-yard gain.
Backup inside linebacker Mack Wilson helped offset some of that depth by flexing onto the edge in passing situations.
The Pats played a higher dose of man-to-man coverage than expected, perhaps emboldened by the return of cornerback Jack Jones from injured reserve. He rotated with Jonathan Jones, while J.C. Jackson played the most snaps (64) of any cornerback for a second straight week.
The Bills repeatedly hurt the Patriots with in-breaking routes at the second level, where Allen hit Diggs and rookie tight end Dalton Kincaid (8 catches, 75 yards).
The tackling was brutal across the board. Ja'Whaun Bentley, Kyle Dugger, Adrian Phillps and Myles Bryant were the worst offenders, but wrapping up and taking better angles must be addressed with the entire defense this week in practice.
Studs
WR Demario Douglas
Four catches. Three flags drawn. One weapon the Patriots must feature as much as possible.
Feed. Pop. Douglas.
DL Deatrich Wise
His five pressures lead the team and ruined multiple pass plays for the Bills. Without Matt Judon and Josh Uche, the Pats needed Wise to provide edge pressure. He delivered.
DL Christian Barmore
A wrecking ball in a No. 90 jersey. Barmore recorded some of the cleanest wins of any Patriots pass rusher this season. The last two weeks may be the best back-to-back games of his career.
Duds
LB Ja'Whaun Bentley
Rough game. Bentley missed five tackles, blew a couple chances at a sack and was in the vicinity of multiple catches.
WR DeVante Parker
Parker lost significant playing time to practice-squad receiver Jalen Reagor (35 snaps to 25). With his 35 snaps, he failed to separate consistently and finished with one catch.
Statistics for passing depth, broken tackles and missed tackles courtesy of Pro Football Focus.
*Explosive plays are defined as runs of 10-plus yards and passes of 20-plus yards. Explosive play rate is one of the most strongly correlated metrics with wins and losses.
**Success rate is an efficiency metric measuring how often an offense stays on schedule. A play is successful when it gains at least 40% of yards-to-go on first down, 60% of yards-to-go on second down and 100% of yards-to-go on third or fourth down.
***11 personnel = one running back, one tight end; 12 personnel = one running back, two tight ends; 13 personnel = one running back, three tight ends; 21 = two halfbacks, one tight end; 22 = two halfbacks, two tight ends.  
****Base defense = four defensive backs; nickel defense = five defensive backs; dime defense = six defensive backs; goal-line defense = three defensive backs; dollar defense = seven defensive backs.
Denial of responsibility! Planetconcerns is an automatic aggregator around the global media. All the content are available free on Internet. We have just arranged it in one platform for educational purpose only. In each content, the hyperlink to the primary source is specified. All trademarks belong to their rightful owners, all materials to their authors. If you are the owner of the content and do not want us to publish your materials on our website, please contact us by email – [email protected]. The content will be deleted within 24 hours.