Biden will travel to Israel Wednesday amid concern that Israel-Hamas conflict could expand – WSVN 7News | Miami News, Weather, Sports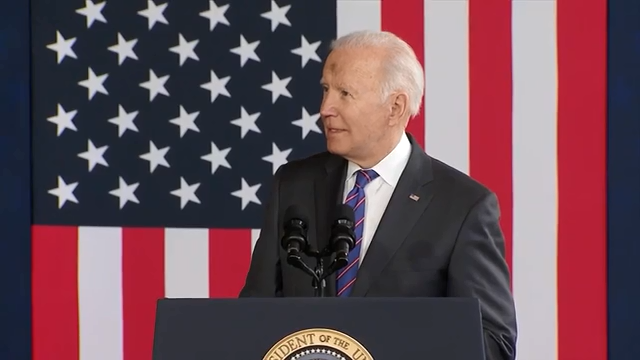 TEL AVIV, Israel (AP) — President Joe Biden will travel to Israel on Wednesday to show support for the U.S. ally as concerns increase that the raging Israel-Hamas war could expand into a larger regional conflict.
U.S. Secretary of State Antony Blinken announced Biden's travel to Israel as the humanitarian situation in the Gaza Strip grows more dire and as Israel prepares for a possible ground attack on the 141-square-mile (365-square-kilometer) territory to root out Hamas militants responsible for what U.S. and Israeli officials say was the most lethal assault against Jews since the Holocaust.
Biden is looking to send the strongest message yet that the U.S. is behind Israel. His Democratic administration has pledged military support, sending U.S. carriers and aid to the region. Officials have said they would ask Congress for upward of $2 billion in additional aid for both Israel and Ukraine, which is fighting Russia's invasion.
Blinken made the announcement early Tuesday after more than seven hours of talks with Israeli Prime Minister Benjamin Netanyahu and other top Israeli officials.
THIS IS A BREAKING NEWS UPDATE. AP's earlier story follows below.
WASHINGTON (AP) — President Joe Biden consulted with a trio of world leaders and his own national security team on Monday amid growing global concern about the humanitarian crisis unfolding in the Gaza Strip and fears that the Israel-Hamas war could metastasize into a broader regional conflict.
Biden spoke by phone with Egyptian President Abdel Fattah el-Sissi, Iraqi Prime Minister Mohammed Shia al-Sudani and German Chancellor Olaf Scholz about the fallout from Hamas militants' surprise attacks on Israel that left 1,400 dead and retaliatory strikes that have killed at least 2,778 Palestinians.
Earlier Monday, Biden and Vice President Harris were briefed in the Oval Office by their national security team on the situation on the ground in Israel and Gaza. White House chief of staff Jeff Zients joined the briefing led by National security adviser Jake Sullivan, Director of National Intelligence Avril Haines and Central Intelligence Agency Director Bill Burns, according to the White House.
Biden had been scheduled to travel to Pueblo, Colorado, on Monday but decided to postpone the visit so he could consult with his aides and speak with fellow leaders about the unfolding situation in the Middle East. He had been scheduled to take a tour of CS Wind, the world's largest facility for wind tower manufacturing.
The president is considering traveling to Israel this week in a show of solidarity with the close U.S. ally in the aftermath of the most lethal assault against Jews since the Holocaust, according to a senior administration official. The official, who was not authorized to comment about the president's potential visit, said a final decision to visit Israel hasn't been made.
Truckloads of aid idled at Egypt's border with Gaza, barred from entry, as residents and humanitarian groups pleaded Monday for water, food and fuel for dying generators, saying the tiny Palestinian territory sealed off by Israel after last week's rampage by Hamas was near total collapse.
Biden's call with the Egyptian leader came one day after el-Sissi met with U.S. Secretary of State Antony Blinken in Cairo. Egypt's state-run media said el-Sissi told Blinken that Israel's Gaza operation has exceeded "the right of self-defense" and turned into "a collective punishment."
European Union leaders will hold an emergency summit on Tuesday as concern mounts that the war between Israel and Hamas could fuel tensions in Europe and bring more refugees in search of sanctuary.
Blinken was in Israel on Monday for his second visit in less than a week for talks with Israeli leaders. He has been crisscrossing the Middle East with stops in Jordan, Bahrain, Qatar, Egypt, Saudi Arabia and the United Arab Emirates.
Blinken, in talks Monday with Israeli Prime Minister Benjamin Netanyahu and other Israeli officials, carried back some of the feedback he received from Arab leaders. He also "underlined his firm support for Israel's right to defend itself from Hamas' terrorism and reaffirmed U.S. determination to provide the Israeli government with what it needs to protect its citizens," State Department spokesman Matthew Miller said in a statement.
More than 1,400 Israelis were killed, the vast majority of them civilians, in Hamas' assault. At least 199 others, including children, were captured by Hamas and taken into Gaza, according to Israel. It's the deadliest war for Israel since the 1973 conflict with Egypt and Syria.
Meanwhile, Iran's foreign minister warned Monday that "preemptive action is possible" if Israel moves closer to its looming ground offensive in the Gaza Strip.
Iran is a chief financial sponsor of Hamas militants in Gaza and Hezbollah in Lebanon. The comments by Hossein Amirabdollahian follow a pattern of escalating rhetoric from Iran.
"Leaders of the resistance will not allow the Zionist regime to do whatever it wants in Gaza and then go after other resistance groups after it's done with Gaza," he told state television. "Therefore any preemptive action is possible in the coming hours."
White House officials have said that U.S. intelligence shows that Iran has been broadly aware that Hamas had been preparing for a possible strike against Israel. But the U.S. says it has yet to uncover evidence of direct Iranian involvement in the Oct. 7 attack.
Israel is preparing for the potential of a new front opening on its northern border with Lebanon, where it has exchanged fire repeatedly with the Iranian-backed Hezbollah group. The military ordered residents of 28 Israeli communities near the border to evacuate.
Air raid sirens interrupted Blinken's return to Israel three times on Monday, twice as he met with Israeli Prime Minister Benjamin Netanyahu and his war cabinet for discussions over the war with Hamas.
The sirens signaling incoming rocket fire, followed by the loud booms of Iran Dome air defenses intercepting rockets, underscored an often-daily reality for Israelis, particularly since Gaza-based Hamas began massive assaults on Israel on Oct. 7.
Blinken and his team got their first taste of the warning system and Iron Dome response as they drove from Jerusalem to Tel Aviv minutes after sirens sounded in both cities, causing motorists on the highway linking them to pull over and take cover.
Blinken's motorcade did not slow or alter its route but sped quickly to the Israeli Ministry of Defense as motorists on the shoulders of the road returned to their vehicles.
Senate Majority Leader Chuck Schumer, who just returned from a weekend trip to Israel, said Monday that he hopes Congress will move quickly to aid Israel. He said he met with grieving families during his visit, along with top Israeli officials, and is "shaken by anger and fear."
"In the coming weeks, the United States Senate will do everything possible to help Israel eliminate the threat that Hamas presents," Schumer said.
Schumer said he is working with the administration on an emergency war supplemental and it will include military, intelligence, diplomatic and humanitarian assistance. He said the Senate must go first to pass it because of "disarray" in the House, which has gone two weeks without a leader after Republicans ousted Speaker Kevin McCarthy.
The Senate Foreign Relations Committee will hold a confirmation hearing Wednesday for former Treasury Secretary Jacob Lew, Biden's nominee for ambassador to Israel.
Copyright 2023 The Associated Press. All rights reserved. This material may not be published, broadcast, rewritten or redistributed.
Denial of responsibility! Planetconcerns is an automatic aggregator around the global media. All the content are available free on Internet. We have just arranged it in one platform for educational purpose only. In each content, the hyperlink to the primary source is specified. All trademarks belong to their rightful owners, all materials to their authors. If you are the owner of the content and do not want us to publish your materials on our website, please contact us by email – [email protected]. The content will be deleted within 24 hours.