Ready for the new NFL season, but not ready for hefty cable or streaming bills? A digital TV antenna might be the touchdown you're looking for. With a one-time investment, you can catch a good portion of all the on-field action on TV from major networks like NBC, Fox and CBS in crisp high-definition. Set it up near a window, and you're set for the entire season with no monthly fees attached.
Signal strength varies by location, so you'll want to ensure a strong reception for game day consistency. So if you live in an area where signal might be potentially spotty, keep that in mind.
---
Best digital TV antennas of 2023
For most, a digital TV antenna is a reliable and affordable way to take the final step toward cutting the cable TV cord and ditching those monthly cable fees. And if you find yourself dealing with a storm that takes out your cable? An antenna can be helpful in that situation, too. 
Related: How we select our products
Go long and score big savings this fall with some of the best digital TV antennas on the market. Here are our top picks.
Mohu Leaf Supreme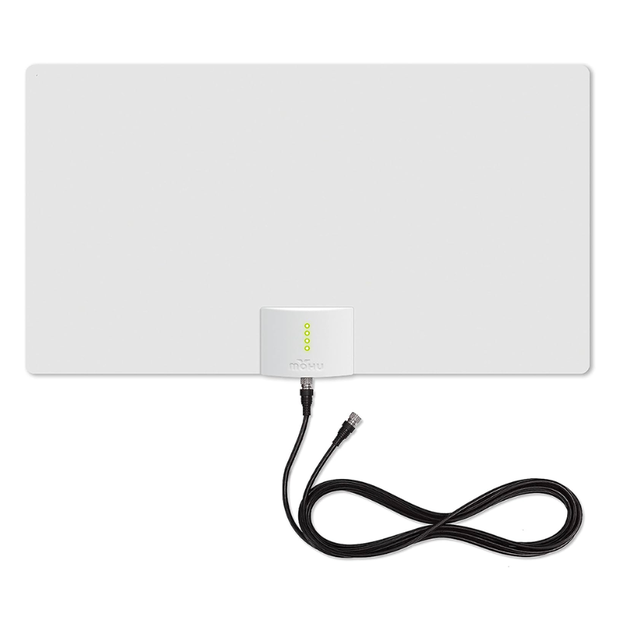 The Mohu Leaf Supreme Pro indoor HDTV antenna is a the best overall digital TV antenna. It delivers crisp, over-the-air TV signals, with an impressive 65-mile range. With its great picture and reliable functionality, it's established itself as one of the most powerful amplified indoor antennas available. 
It's also quite simple to use. What makes it particularly user-friendly is the integrated signal indicator. Thanks to its LED lights, you can adjust the antenna's placement in real-time to ensure you're capturing the strongest possible TV signals.
In terms of aesthetics, the Mohu Leaf offers some flexibility. You can use its reversible black or white side to match your home decor, and it's incredibly flat, so it can sit just about anywhere once you've set it up and calibrated it. Out of sight, out of mind.
It only takes moments to set up. By connecting the USB power injector directly to your TV's USB port, you're set up to enjoy a range of channels. Depending on your area, you might be able to tap into Full HD 1080p broadcasts, or even the newer UHD 4K, 8K, and NEXTGEN TV.
While you'll get the best performance out of the Mohu Leaf Supreme Pro, there is one point of contention: The latest model lacks a detachable coaxial cable. This might mean you'll have to grab an additional cable and a male-to-male adapter for extended connections, but that's no reason to skip the device entirely given its exemplary performance. 
Why we like this digital TV antenna:
It boasts a 65-mile range for clear TV signals even from lengthier distances.
Its integrated LED signal indicator makes it simple to find the best placement.
The antenna's body is thin and sleek, with reversible black and white options. 
---
Camkey 2023 outdoor indoor digital TV antenna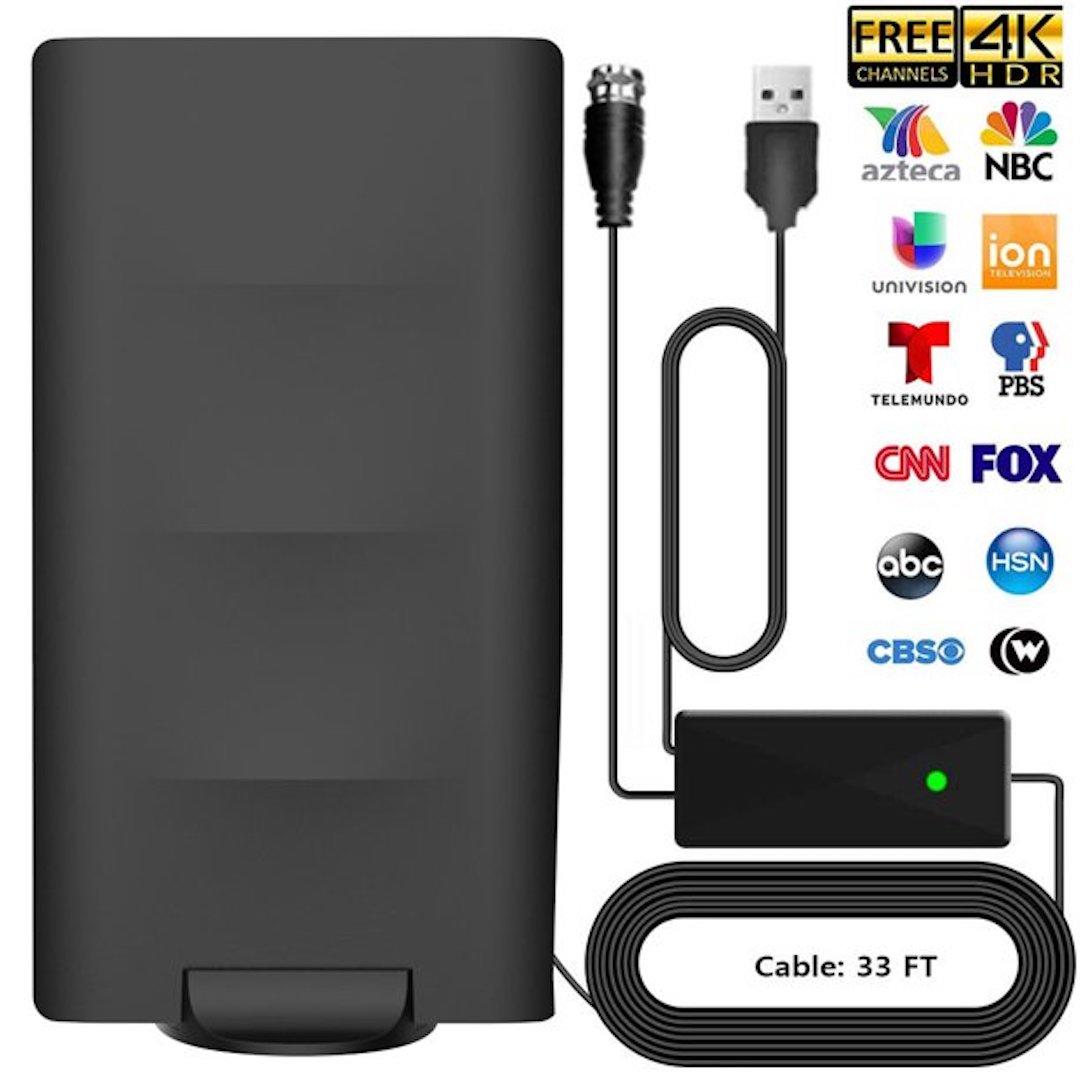 With a whopping 200-mile range, the Camkey 2023 outdoor indoor digital TV antenna is a standout. This is an updated version of the previous model for 2023, which sees a few upgrades that should benefit most users. 
Want to catch up on ABC, CBS, Fox or Univision? This digital TV antenna has got you covered with uncompressed HD broadcasts that'll look fantastic whether you have a big or small screen. And you won't have to pay a dime beyond your antenna's initial costs. 
Beyond its impressive range, the antenna's tech ensures you get crystal-clear visuals and sound. Thanks to its Amplifier Signal Booster and Smart IC Chip, you're in for a treat. No more annoying cellular or FM signal interference. 
It won't stand out in your home in a bad way, either. It's sleek, black and waterproof. Whether you want it on your window, wall or even outside under the roof, it'll fit right in while boosting your signal reception. Setting it up is a breeze with the included 33-foot coaxial cable, amplifier and easy-to-follow manual.
Why we like this digital TV antenna:
It has an extremely long 200-mile range for great-looking TV even for users in areas with little signal.
It offers a great-looking picture that looks crystal-clear without much maintenance.
It can be used both indoors and outdoors.
---
Best Buy Essentials Amplified ultra-thin film indoor HDTV antenna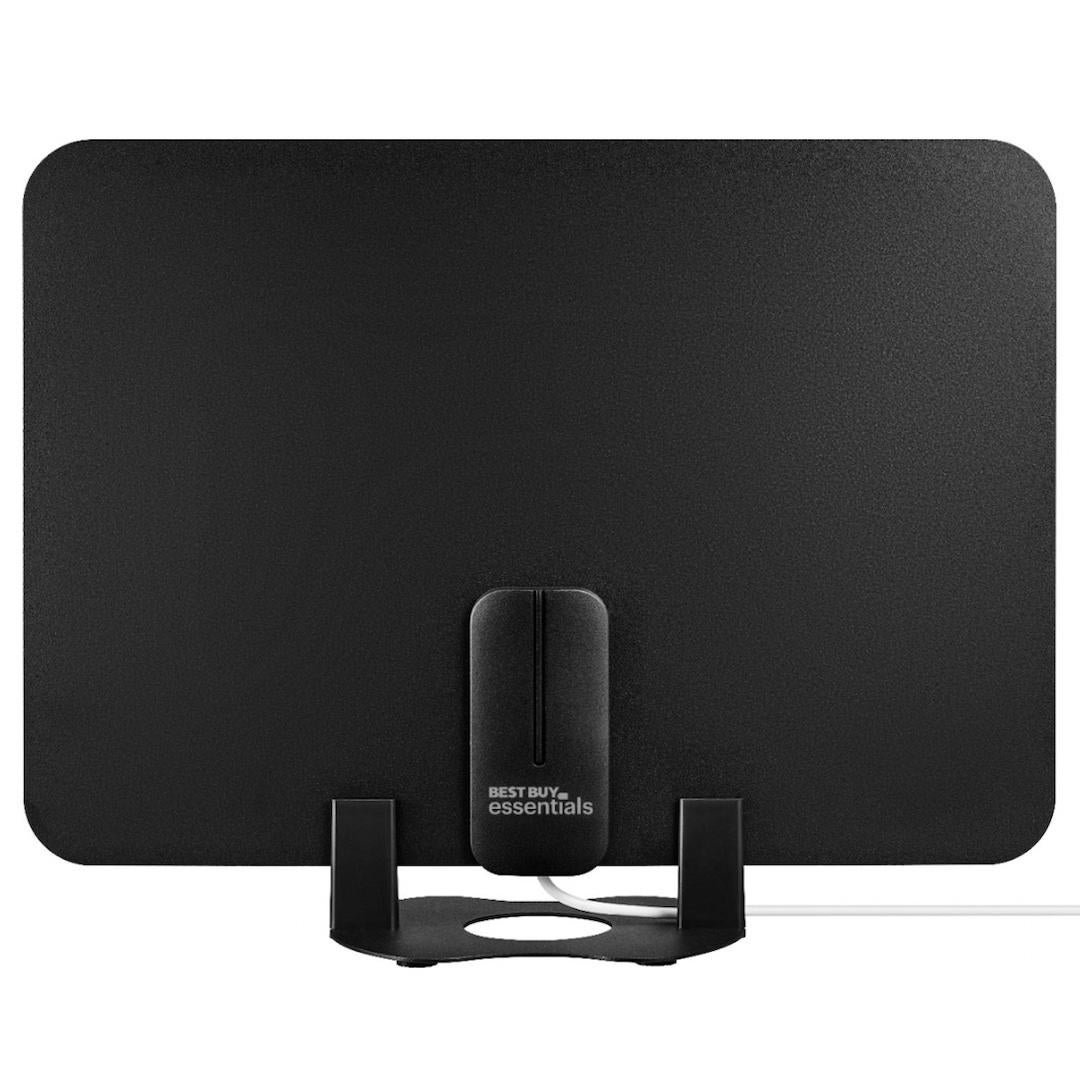 The Best Buy Amplified ultra-thin indoor HDTV antenna is an affordable yet sturdy option that can grant you access to all the sports and TV shows you're looking for without the confines of an expensive cable package. 
It has a range of up to 50 miles, which is great for the price. For under $30, you'll be able to access a wide range of VHF and UHF channels (location dependent) in high definition. It's compatible with most TV models, and you can mount it on the wall if that's what works best for your entertainment setup. 
Like many of the other antenna options out there, you can swap between the black or white side, so it can seamlessly blend in with your decor. The included 10-foot coaxial cable gives you some flexibility with placement, though you may need a longer cord to reach your window.
Bottom line: This antenna may not have all the bells and whistles of its more expensive brethren, but it can get the job done and won't break the bank. 
Why we like this digital TV antenna:
Features a 50-mile range. 
Amplified connectivity grants a great-looking picture with VHF and UHF channels in HD. 
It's wall-mountable with 10-foot coaxial cable included. 
---
Clear TV indoor amplifying and broadcasting antenna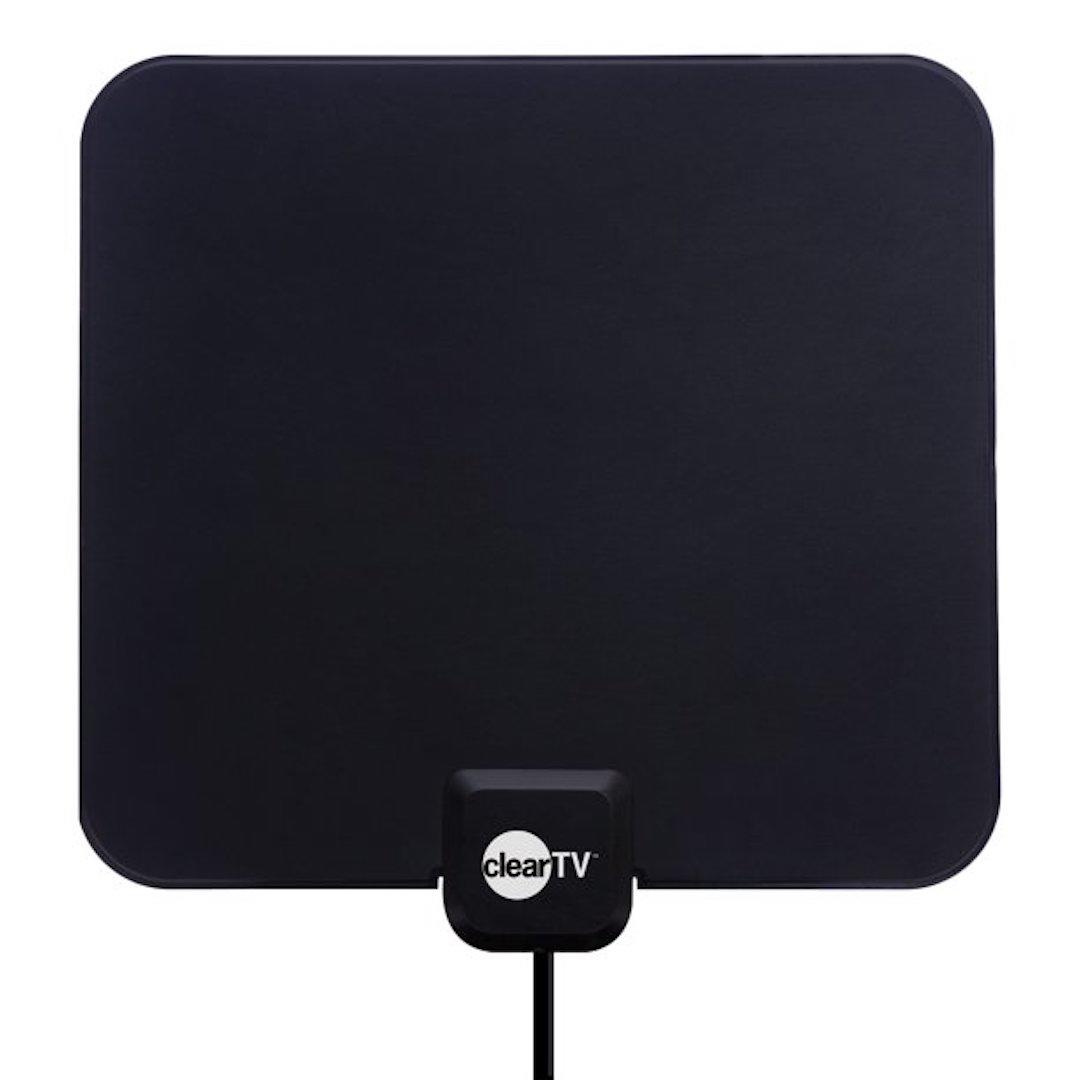 The Clear TV indoor amplifying and broadcasting antenna is an excellent option for anyone who only needs an antenna inside their home. It's just $25, which makes it a bargain. 
This one is especially user-friendly. Once out of the box, you can get it up and running in just a few minutes. It's sleek, thin and can meld with just about any type of decor. While the antenna can be placed almost anywhere, you'll want to make sure to put it in a location where its signal won't be impeded by walls, mountains or any other structures that could be in the way.
For those concerned about placements, it's worth noting the antenna doesn't come with a stand. However, its design means it should be able to fit in various settings, whether that's a home, an office, or a dormitory, without the stand. You can mount it where you need it, or simply place it as you would a photo frame or something similar. 
Keep in mind, however, that its 35-mile range is shorter than some of the other options on the market. 
Why we like this digital TV antenna:
It's an affordable pick at just $25 that's user-friendly. 
The 35-mile range should be sufficient for most users. 
It's wall-mountable. 
---
Antop AT-800SBS HD smart panel antenna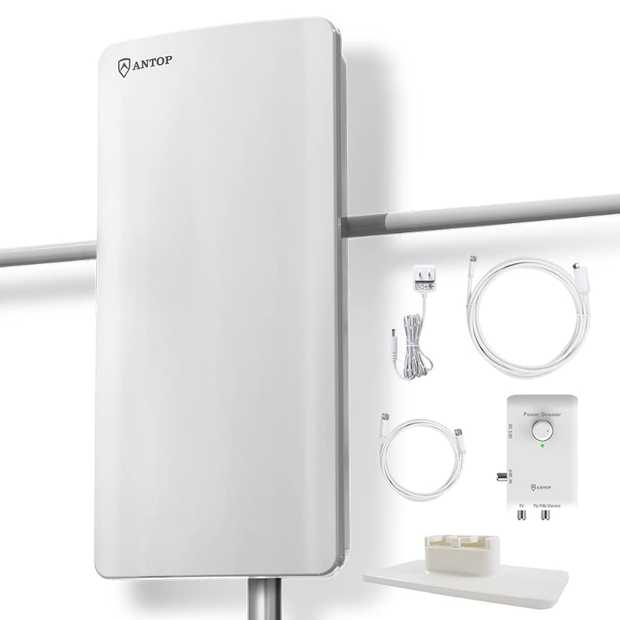 The Antop AT-800SBS HD smart panel antenna is pricier than the rest of the digital TV antennas on this list, but it's one of the best you'll find — if you don't mind paying a premium.
What really sets it apart is its adjustable amplifier. It lets you tweak the antenna's reception so you can strike the best balance possible between range and clarity.
The antenna also comes with mounting hardware and an optional FM connection. It also comes with a handy tabletop stand, which makes it much easier to set up inside. It performs just as great (or better) outside.
It's quick to install. It comes with a generous 40-foot cable, so there should be plenty of space to get everything hooked up, no matter where you want your TV to sit.
Again, it's pricey, but its 85-mile range, performance and versatility make it worth every penny. For those who don't mind going the extra mile for quality, this antenna is a no-brainer.
Why we like this digital TV antenna:
It has an adjustable amplifier for better signal.
It's suitable for both indoor and outdoor use.
It comes with a long 40-foot cable for easy setup.
---
Related content from CBS Essentials
Denial of responsibility! Planetconcerns is an automatic aggregator around the global media. All the content are available free on Internet. We have just arranged it in one platform for educational purpose only. In each content, the hyperlink to the primary source is specified. All trademarks belong to their rightful owners, all materials to their authors. If you are the owner of the content and do not want us to publish your materials on our website, please contact us by email – [email protected]. The content will be deleted within 24 hours.