As TV manufacturers begin to roll out the latest models through the remaining months of spring, some of the best TVs from 2021 will begin dipping in price. Furthermore, we'll start to see some excellent 2022 entry- and mid-tier TVs hitting shelves. This is all to say that now is a fantastic time to at least start looking at new TVs, especially if you're operating on a budget of $1,000 or less.
No, you won't be shooting yourself in the foot when it comes to image quality and features. With the cost of production continuing to lower, these days, you can nab a top-notch TV for a far lower price than you could even two years ago!
In fact, one of our favorite TVs you can buy right now is the Hisense 65-inch U7G. Tailor-made for gamers, the U7G boasts unbelievable motion refresh, minimal input lag, quantum-dot lighting, support for today's leading Dolby codecs, and more.
The U7G is going to be a great choice for most people, but it's not the only TV that provides quality at an affordable price. If you're looking to save even more, take a look at our picks for the best 4K TV deals and the best 4K TVs under $500.
Hisense 65-inch U7G Android Smart TV
The best overall
Pros
Impressive brightness
Solid black levels
Excellent backlight control
Great for gaming
Easy setup
Cons
Poor off-angle performance
Potential dirty screen effect
Why you should buy this: You're looking for a premium picture, unbeatable motion, and a future-proofed set for the gaming hardware of today and tomorrow.
Who it's for: Any TV watcher, from casual evening viewers to gaming connoisseurs.
Why we picked the 65-inch Hisense U7G:
Whatever you're buying a TV for, the 65-inch Hisense U7G is guaranteed to check all your requirement boxes. In fact, we think this is one of the best TVs you can buy right now — bar-none. Over the last several years, Hisense has been rising through the ranks of TV stardom, with more and more models creeping into the brick-and-mortar palaces we frequent most.
The U7G is available in three sizes (55-, 65-, and 75-inch screens). The 55- and 65-inch models come in under $1,000, with the 75-inch going for $1,200. Picture-wise, Hisense has loaded the U7G with as much image tech as possible, including exclusive ULED technologies, a suite of resolution-boosters that work with the set's 4K panel to upscale colors, contrast, brightness, and motion. Quantum Dot-lighting is one of the staples of a Hisense TV and the U7G is no exception. Be prepared for bold colors like you've never seen before — at least for this price.
One of the major considerations of any large-TV purchase is gaming, and rest assured, Hisense has got the gaming realm covered. Game Mode Pro is a built-in picture preset that channels the U7G's high-speed HDMI inputs to deliver top-notch motion, less input lag, screen jitter, and other kinds of gaming-centric distortions. Simply put, your PS5 or Xbox experience can't get much better.
Add in Dolby Vision HDR and Atmos support, an intuitive Android TV smart interface for all your streaming needs, and Google Assistant, and it becomes clear why the 65-inch Hisense U7G is one of the top TVs you can buy right now.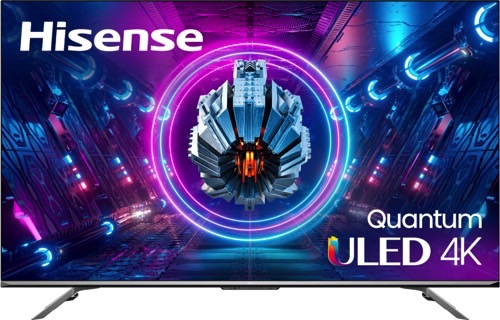 Hisense 65-inch U7G Android Smart TV
The best overall
TCL 55-inch 6-Series 4K HDR TV
OLED-like picture for a great price
Pros
Very good brightness
Excellent black levels
Sharp mini-LED backlight control
Excellent HDR color
THX Certified Game Mode
Cons
Complicated picture settings
Capped at 1440p for 120Hz games
SDR color a bit off
Why you should buy this: It's as close as you can get to OLED picture quality for on or near $1,000.
Who it's for: Anyone looking for the best possible picture quality and features for the lowest possible price.
Why we picked the 55-inch TCL 6-Series 4K TV (2020):
Previous 6-Series models were already so good, that they completely changed our perception of the TCL brand, elevating it from so-so budget territory to the status of a genuine competitor to brands such as LG, Samsung, and Sony.
This 6-Series solidifies that reputation, largely thanks to TCL's pioneering efforts with Mini-LED backlighting. It effectively swapped hundreds of large LED bulbs for many thousands of smaller LEDs, which gives the 6-Series the ability to control local dimming at granularity we've only seen once before (in TCL's own 8-Series). To say that it improves picture quality is an understatement. It brings QLED displays closer to OLED performance for black levels and contrast than they've ever been before.
There's also plenty of format support to love: Dolby Vision, Dolby Atmos, HDR10, and, of course, the excellent Roku OS running the show — they're all here. (If you're more of a Google TV OS person, you may want to check out the latest TCL 5- and 6-Series TVs, too) New for this model is a THX-certified gaming mode, AMD's FreeSync variable refresh rate (VRR) technology, and auto game mode. Gaming at 120Hz is possible, but it caps at 1440p. Still, with the Mini-LED backlighting, shadow details are so good, and the motion so smooth, you might not mind the lower resolution.
The Roku OS offers a ton of great features, from an intuitive interface to thousands of streaming apps. As such, it should come as no surprise to hear that it's a one-stop-shop for live and on-demand content, providing an instant portal to the likes of Amazon Prime Video, HBO Go, Hulu, Sling TV, and Netflix, along with a wide array of lesser-known services, so you can stream to your heart's content.
It's compatible with both Alexa and Google Assistant should you wish to control the TV via one of these smart speakers, or you can simply use the remote's built-in voice control. Just hit a button on the remote and you'll be able to throw all sorts of vocal instructions its way, from commanding it to search a particular movie or show across all your preferred content providers to adjust the volume level.
Here's a quick look at some of the commands the TCL 6-Series understands:
"Find The Big Bang Theory."
"Switch over to HDMI 3."
"Play Designated Survivor on Netflix."
"Switch off after this episode of Friends."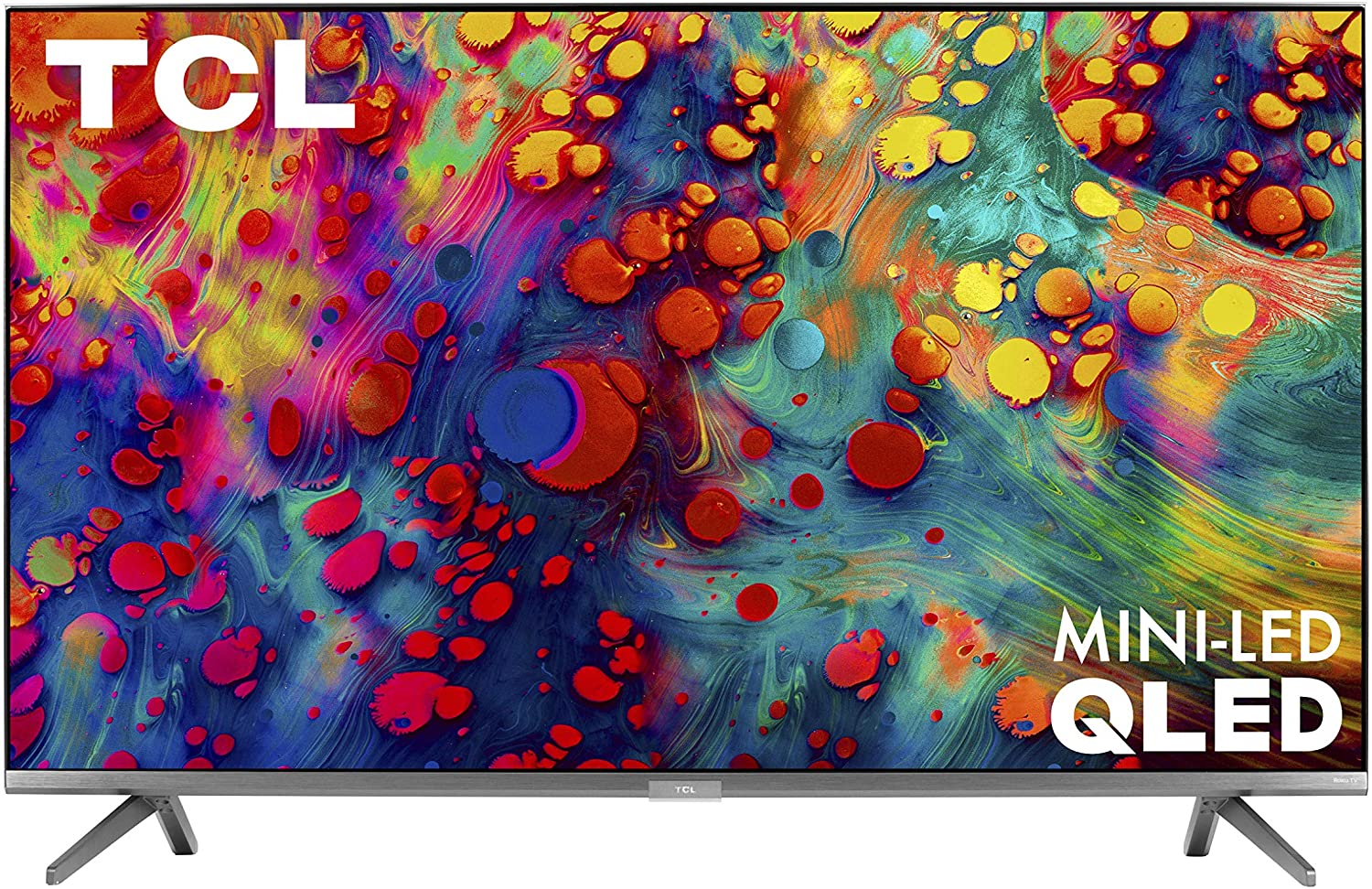 TCL 55-inch 6-Series 4K HDR TV
OLED-like picture for a great price
TCL 55-inch 5-Series (2020)
The best value for size
Pros
Full-array local dimming backlight
Solid black levels
Excellent backlight control
Expanded color Gamut
Low input lag
Cons
Doesn't get especially bright
HDR isn't impressive
Involved setup process
Why you should buy this: Great picture quality, leading-edge features, and an incredibly affordable price.
Who it's for: Anyone who needs a new TV and doesn't want to spend a lot of money.
Why we picked the 55-inch TCL 5-Series (2020):
TCL has proven over and over again that it makes the most affordable high-quality TVs on the planet. Right now, the best example of that is the TCL 5-Series (2020). TCL basically took all of the qualities of last year's 6-Series (one of our favorite TVs) and repackaged them into an even more affordable model.
What you get is a bright, colorful image thanks to its quantum dot-enhanced backlight, deep blacks, screen size, and superb viewing angle that will find a home anywhere from the bedroom to the basement.
It supports Dolby Vision and HDR10, the two most common flavors of HDR, it is an excellent 4K upscaler so that your non-4K content looks as good as possible, and it's gamer-friendly with an auto game mode that provides low input lag and fast response times.
Four HDMI ports give you plenty of connection options, including HDMI ARC, which lets you connect an A/V receiver or soundbar with just a single cable. There's no Dolby Atmos support, but as long as your receiver or soundbar supports it, you're good to go.
Because it's a Roku TV, the whole experience is powered by Roku's incredibly simple yet powerful software, with thousands of streaming apps available.
The 5-Series is compatible with both Amazon Alexa and Google Assistant-powered smart speakers. The included Roku remote doesn't have a microphone, but if you download the free Roku app on your smartphone you can use it for voice searches and for private listening.
All in all, the TCL 5-Series is an exceptional value in a 55-inch 4K HDR smart TV.
TCL 55-inch 5-Series (2020)
The best value for size
Samsung 65-inch AU8000 series
The best for 4K upscaling
Pros
Great price
Impressive upscaling, colors, and contrast
Excellent anti-reflection screen
Cons
Lacks HDMI 2.1
No VRR or local dimming
Poor off-center viewing
Why you should buy this: Those who want to save without skipping on resolution upgrades.
Who it's for: Those looking to buy into the Samsung lineup that don't want to spend more than $1,000.
Why we picked the Samsung 65-inch AU-8000 Series:
Along with Sony and LG, Samsung continues to dominate amongst the biggest names in TVs. While a number of the brand's sets are well over $1,000, the UN65AU8000 delivers a pretty impressive picture for under $700.
Image quality is one of the top laurels of the AU8000, with Samsung's Dynamic Crystal Color processing delivering a rich and sharp picture that looks particularly great during dark scenes. Upscaling is another big win here, with the Crystal Processor 4K doing an exceptional job at up-converting standard HD content to as close to UHD levels as possible.
Running an upgraded version of Samsung's 2020 Tizen OS, smart TV fans will find the best of the streaming basics on the AU8000, featuring apps like Netflix, Hulu, and Disney+, along with built-in support for popular voice assistants like Alexa, Google Assistant, and Samsung's Bixby.
Now let's unpack some of the lesser points of this 2021 set.
For starters, this is technically considered a budget-tier Samsung TV, which means there are a few key features missing from the fold — notably, a lack of HDMI 2.1 inputs or Variable Refresh Rate (VRR) for the gamers of our readership.
And while overall colors, contrast, and upscaling score high, the VA panel design starts to suffer when it comes to off-center viewing.
It may not be Samsung's most advertised triumph of 2021, but if you're looking to buy into the brand without crossing the $1,000 threshold, the Samsung UN65AU8000 is a great place to start.
Samsung 65-inch AU8000 series
The best for 4K upscaling
Vizio 65-inch M-Series M65Q7-H1
Xbox and PlayStation optimized
Pros
Built-in Airplay 2 and Chromecast
Dolby Vision and HDR10+
Outstanding color
AMD FreeSync for gamers
Cons
Lacking cable management
Built-in audio isn't great
Could use minor color adjusting
Why you should buy this: It has console-friendly features and excellent HDR support.
Who it's for: Gamers who want the best results for under $1,000.
Why we picked the Vizio 65-inch M-Series M65Q7-H1:
One problem that many "smart" TVs have is that their smart features really aren't that useful. Basic access to apps over Wi-Fi is something that we already get from our consoles, receivers, and set-top boxes, so there's not really much for the TV to do. One way to fix that is to add voice assistants for easier control, which many of our picks have. This 65-inch Vizio model takes another popular track and adds built-in support for Airplay and Chromecast, making it easier to switch streaming from your favorite mobile devices to your TV whenever you need to.
The TV also sports a 4K resolution and excellent support for both Dolby Vision HDR and HDR10+, which will optimize the latest content so it looks better than ever. Meanwhile, Vizio reports that its Quantum Color technology offers a 75% greater color range from a standard 4K TV — a significant claim, although the color on this model does look excellent, especially for the price, although our reviewer did have to do some minor manual color adjusting.
Finally, the Vizio 65-inch M-Series M65Q7-H1 is a great pick for gamers. It includes automatic optimization for both the Xbox and PlayStation and matches refresh rates to help reduce game stuttering. It even supports AMD FreeSync for more advanced screen tear prevention. With its eARC port and auto low-latency mode, it will go straight into gaming mode when connected, so no fussing there. There's also support for variable refresh rate, which is amazing for a TV at this price point.
Check out Caleb Denison's full video review of the Vizio M-Series M65Q7-H1 for more.
Vizio 65-inch M-Series M65Q7-H1
Xbox and PlayStation optimized
Sony 55-inch BRAVIA XR X90J Series
Best for HDMI 2.1
Pros
Rich and vibrant colors
Stellar 4K upscaling
HDMI 2.1-enabled
Cons
Doesn't hold up well against glare
Why you should buy this: It has powerful upscaling capabilities and HDMI 2.1.
Who it's for: People looking for a premium picture at an affordable price.
Why we picked the Sony 55-inch XR X90J Series:
Sony's Cognitive Processor XR is a powerhouse when it comes to delivering visuals that are bar-none some of the best we've seen on any TV under $1,000. The internal processor is a master of calibrating imagery to bring it as close to lifelike as possible, a great feature only bolstered by the inclusion of Sony's Triluminos Pro Color and full-array lighting.
On top of 4K upscaling, the XR X90J is a titan when it comes to smart features, too. Google TV is the platform you'll be using here, and there's plenty of awesome content to stream, including must-have apps like Netflix, Hulu, Disney+, and more. There's even a built-in microphone on the remote to use Google Assistant to search for shows and movies (internet connection required).
This is also a great TV for gamers, with the inclusion of an HDMI 2.1 input (measured at 4K/120 frames per second) that future-proofs the entire TV for next-gen gaming. While the TV has some struggles when it comes to contending with ambient lighting and off-axis viewing, the Sony 55-inch XR X90J is still an awesome option overall.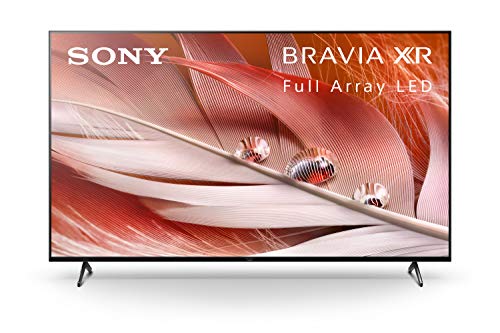 Sony 55-inch BRAVIA XR X90J Series
Best for HDMI 2.1
Frequently Asked Questions
What size TV can I afford for $1,000?
You'll be able to find a TV as large as 75 inches for under $1,000.
Can I get an OLED TV for less than $1,000?
Not yet – or very rarely for special deals. OLED TV technology still is primarily available on high-end models that soar beyond the $1,000 mark. But that may not be the case for long. Vizio is selling its first OLED TV models, with a 55-inch size, that sells for $1,300, but watch for them to go on sale.
Can I use an HDTV or 4K TV with a PC?
Yes, as long as your computer has an HDMI output. If not, you can try using an adapter, but adapters usually don't transmit audio.
What outputs should TVs under $1,000 have?
The No. 1 thing to consider is HDMI in terms of outputs and inputs. We recommend purchasing a TV with HDMI ARC, which means your TV audio can stream to an A/V receiver or a soundbar. Every TV we've included on this list has at least one HDMI ARC post, and most have three total HDMI posts. This means you'll have plenty of image and audio channels available to connect gaming consoles, Blu-ray players, and set-top boxes into your system. Getting the latest generation of HDMI is also important for enabling the latest visual/audio options.
What is the best month to buy a TV?
Let's get the obvious out of the way – Black Friday and the surrounding holidays tend to have the best deals for things like TVs, so November and December are clear choices. But if you missed a deal or it ran out of stock, these can also be annoying months to buy. We suggest also looking for deals in January, where brands discount in preparation for the Super Bowl, and in April and May, when many TVs go on sale.
Which TV brands last the longest?
With proper care, TVs can last for many years. But Samsung and LG have particularly good reputations for durable TVs that can handle long-term use without developing annoying issues like damaged pixels, while still offering top-notch quality.
Editors' Recommendations
Denial of responsibility! Planetconcerns is an automatic aggregator around the global media. All the content are available free on Internet. We have just arranged it in one platform for educational purpose only. In each content, the hyperlink to the primary source is specified. All trademarks belong to their rightful owners, all materials to their authors. If you are the owner of the content and do not want us to publish your materials on our website, please contact us by email – [email protected]. The content will be deleted within 24 hours.